Level-Up Opportunity for Creative Application Printing for Graphic Art Businesses in Banjarmasin with Astragraphia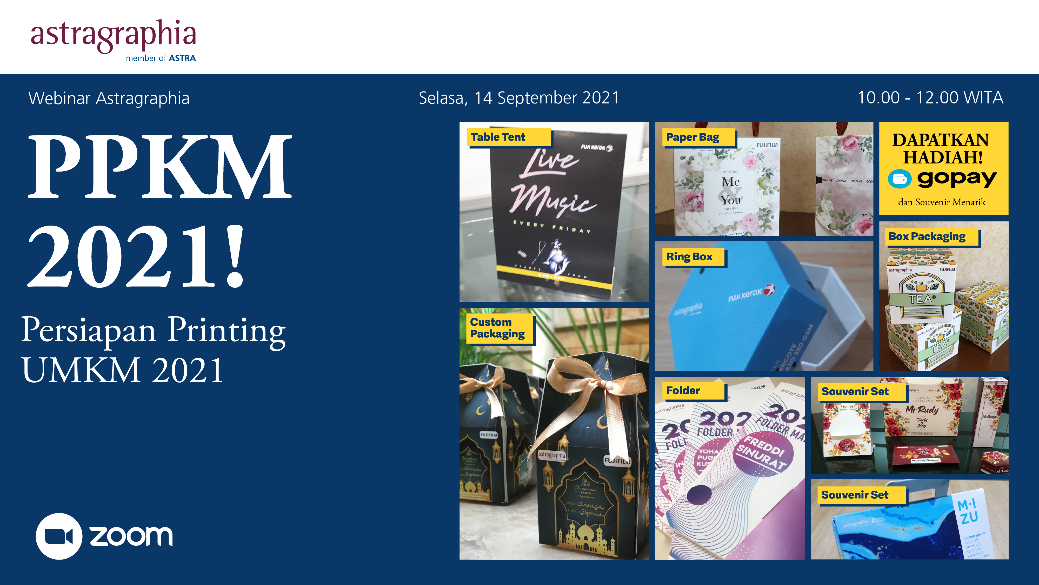 Astragraphia Document Solution, 14 September 2021 – Astragraphia held a webinar for Graphic Arts customers in Banjarmasin City. With the theme "PPKM 2021! (Preparation for Printing UMKM 2021)", this webinar was held by observing the trend that Micro, Small, and Medium Enterprises (MSMEs) in Indonesia are one of the most developed sectors and are expected to be the main drivers of the economy and what preparations need to be made by business actors. printing SMEs in the city.
Attending the event, Mrs. Fitri Yuliani – Corporate Communications and Marketing Communications PT Astra Graphia Tbk introduced a brief profile of Astragraphia as the Exclusive Distributor of FUJIFILM Business Innovation in Indonesia, always providing the best service and after-sales service to all customers in Indonesia at 32 Branches and 93 Service Points. . In addition, Mr. Muhammad Iqbal – Branch Manager of PT Astragraphia Tbk Banjarmasin Branch when giving a speech said that currently, the number of MSME growth in Indonesia starting from 2018 has reached 64.2 million. It is predicted that in 2022, this number will continue to soar. One of the MSME sector trends that have increased is the need for the on-demand printing industry as well as packaging and label printing which is driven by these MSMEs. During the pandemic, 50% of MSMEs in the Banjarmasin area have started switching and selling online. The existence of a positive signal from the government and the shift from offline to online sales has made MSMEs compete to market their products so that they appear in proper, unique, and attractive packaging as added value and differentiators.
Given the above needs, Astragraphia, which has expertise in the field of document solutions and digital printing, is moved to contribute through education for Graphic Art players in Banjarmasin. This form of education is very important to take opportunities and level up the printing volume and open up new markets for creative application printing that are the needs of MSMEs.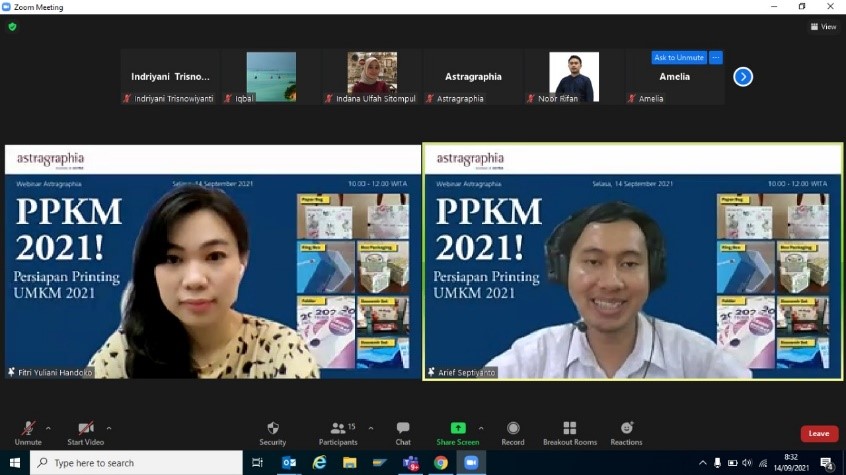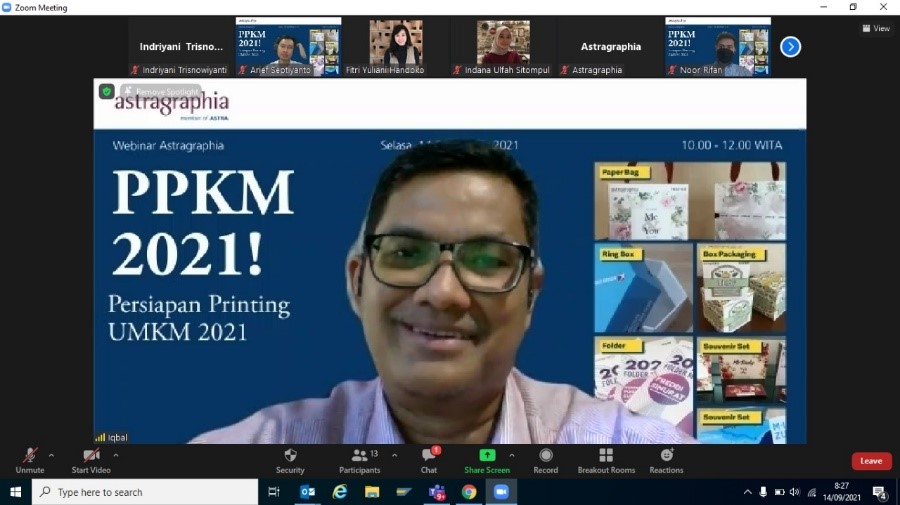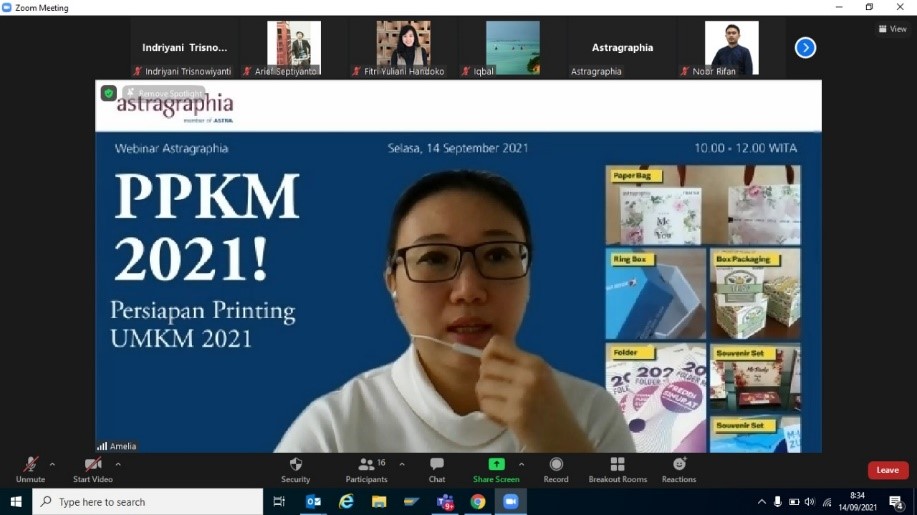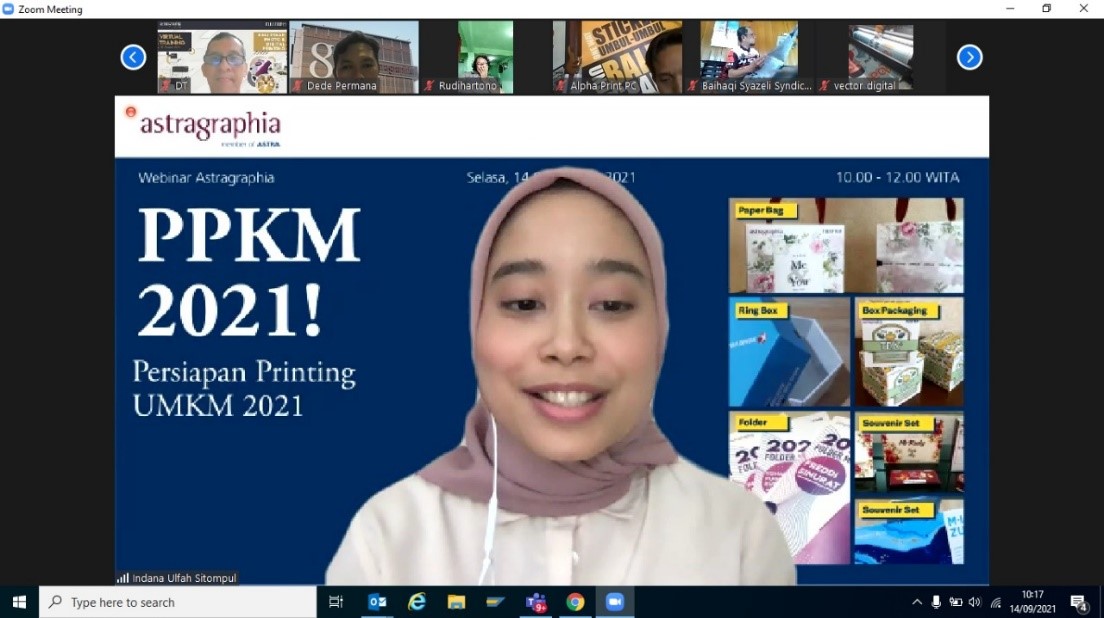 Mrs. Amelia Purnomo – Product Marketing Specialist from Graphic Communication Services PT Astra Graphia Tbk as a resource person to discuss data trends from IDC Indonesia that occur in the MSME printing industry. "With the COVID-19 pandemic in Indonesia, it has had a major impact on the MSME sector throughout Indonesia. Based on data from IDC stated that in a number of areas of Indonesia experienced a decline in Q1-2021 one of which was Kalimantan (-2.23%). In addition, packaging and labeling printing is predicted to be increasingly sought after by MSMEs". On this occasion, Ms. Amelia introduced two superior products from Astragraphia, namely the PrimeLink C9065 and Versant 3100iPress production printer machines which can answer the needs of market share for Graphic Art players in Banjarmasin.
PrimeLink C9065 has the advantage of a print speed of 65ppm by being able to capture print media measuring up to 350x660mm or paper thickness up to 350gsm. In addition, the machine is equipped with a GX-i Server that can increase productivity and efficiency and features Rich IQ Adjustment and SIQA technologies that can improve the quality of the images to be printed. Versant 3100iPress which can print on paper thicknesses up to 400gsm and print media measuring 330x1200mm. The existence of Air Suction Feeder technology can increase the productivity of the printing business. Equipped with GX Print Server 2.8 as well as the iPro3 color calibration tool that can provide premium print quality. The two production printer machines are very appropriate to be used for printing print-on-demand printing needs such as gift packaging produced by MSMEs in Banjarmasin.
Indana Ulfah Sitompul – Business Development Graphic Designer from Graphic Communication Services PT Astra Graphia Tbk said that packaging printing and labeling for MSMEs in Indonesia is predicted to increase. In addition, personalization in print applications, as well as packaging that is simple and safe to use will become a trend in 2022. Thus, to increase the volume of printing and stay afloat during this pandemic, Graphic Arts business players cannot just rely on the Print-Print concept. On-Demand (POD) only. It's important to personalize your creative printing needs to give it a premium element and give it its own emotional effect. By using printing technology and the Graphtec FCX Series finishing machine from Astragraphia, Indana shows the results of thematic printing applications (patterned business cards, embossed certificates, stickers and labels, packaging) which are very suitable for use at weddings, aqiqah, birthdays.