3 HOURS DOWN TIME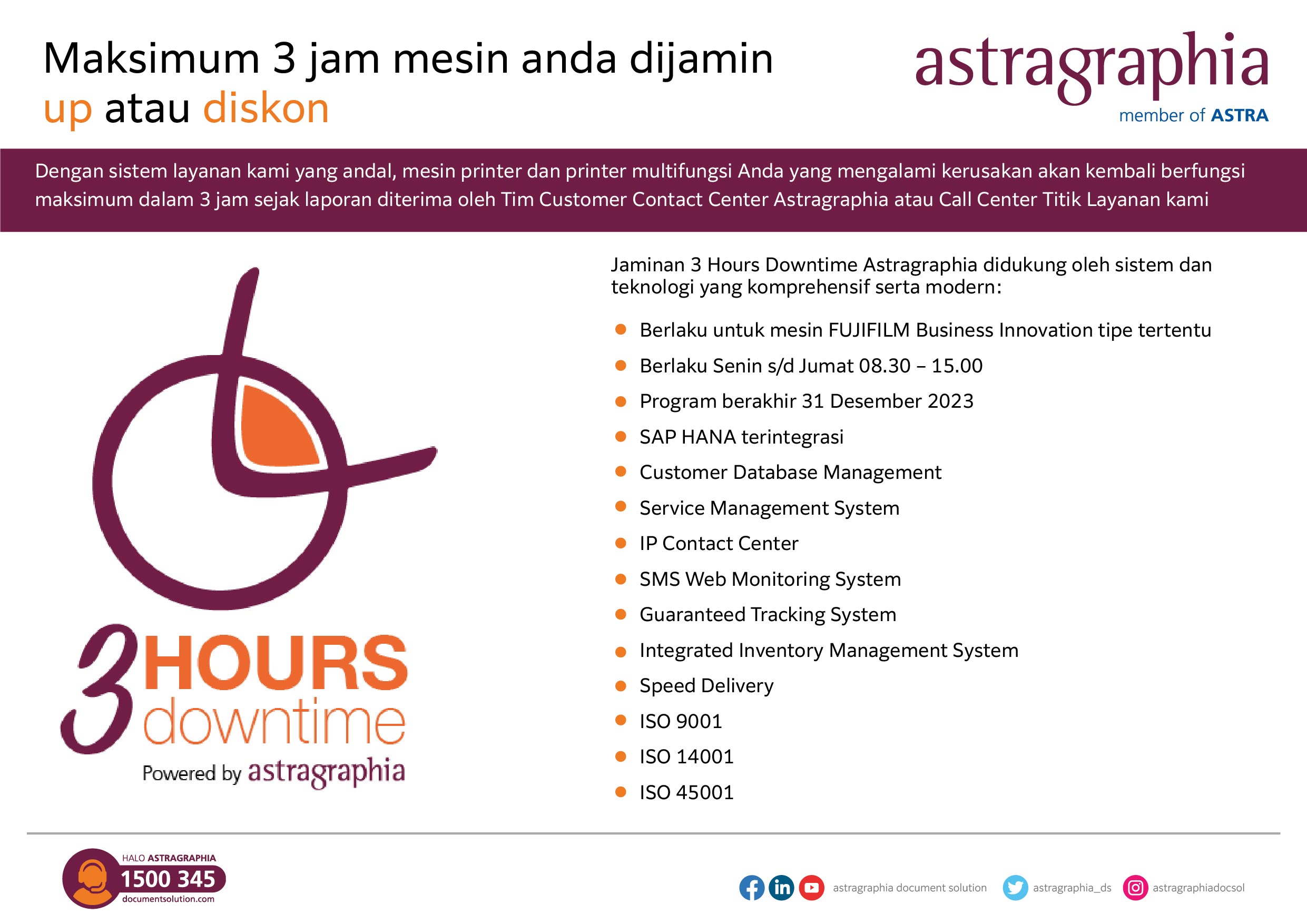 Thank you for your trust in Astragraphia by purchasing Fujifilm products. We understand that the investment you have made, we need to be very seriously supported through the provision of the best after sales services so that the equipment can always operate productively in support of business and operations of your company everyday.
For your convenience, we provide a maximum guarantee of only 3 hours of non-operating machines, or we call "3 Hours Downtime Guarantee". This guarantee is supported by:
Our trained workforce, ranging from Customer Contact Center officers, Engineer, System Analyst, to Logistics
The use of the latest technology such as:

IPCC
SAP
SMS Web Monitor
Response Tracking System
In 3 Hours Downtime Guarantee, Astragraphia guarantees:
Our technicians are always on hand to help.
Certainty about the arrival time of Technician to your place.
The repair process is done quickly and professionally.
Customer Satisfaction is always our priority.
Terms and Conditions:
Reported damage to the machine must be submitted and recorded on our Customer Contact Center at 1500345.
The customer records the complaint reporting number and the reporting time.
Customers perform a thorough examination of the results of improvements made by Astragraphia technicians.
To equalize the downtime calculation, the customer is required to check the data on the Machine Record document stating the time of reporting, technician arrival time and duration of repair.
Customer shall sign the Machine Record document as evidence that the repair has been made by Astragraphia technician and the machine is back to working properly.
This Warranty Program applies to machines hired or purchased from Astragraphia, which include the following models
No.
Model Produk
1
Apeos C3070, Apeos C3570, Apeos C4570, Apeos C5570, Apeos C6570, Apeos C7070
2
AP C3070, AP C3570, AP C4570, AP C5570, AP C6570, AP C7070
3
DC-VII C3372, DC-VII C3373, DC-VII C4473, DC-VII C5573, DC-VII C6673, DC-VII C7773,
AP-VII C2273, AP-VII C3373, AP-VII C4473, AP-VII C5573, AP-VII C6673, AP-VII C7773
4
DC-VI C2271, DC-VI C3370, DC-VI C3371, DC-VI C4471, DC-VI C5571, DC-VI C6671, DC-VI C7771
AP-VI C2271, AP-VI C3370, AP-VI C3371, AP-VI C4471, AP-VI C5571, AP-VI C6671, AP-VI C7771
5
DC-V C2276, DC-V C3374, DC-V C3376, DC-V C4476,DC-V C5576,DC-V C6676, DC-V C7776,
AP-V C2276,AP-V C3374, AP-V C3376, AP-V C4476, AP-V C5576, AP-V C6676, AP-V C7776
6
DC-V C2275, DC-V C3373, DC-V C3375, DC-V C4475, DC-V C5575, DC-V C6675, DC-V C7775,
AP-V C2275, AP-V C3373, AP-V C3375, AP-V C4475, AP-V C5575, AP-V C6675, AP-V C7775
7
Apeos C2060, Apeos C2560, Apeos C3060
8
AP C2060, AP C2560
9
DC-V C2263, DC-V C2265
10
AP-VII C4421, AP-VII C3321
11
AP-V C3320
12
DC-IV C4430, AP-IV C4430
13
Apeos 2560, Apeos 3060, Apeos 3560
14
AP 2560, AP 3060, AP 3560
15
DC-V 2060, DC-V 3060, DC-V 3065, AP-V 2060, AP-V 3060, AP-V 3065
16
Apeos 4570, Apeos 5570
17
AP 4570, AP 5570
18
DC-V 4070, DC-V 5070, AP-V 4070, AP-V 5070
19
DC-V 6080, DC-V 7080, AP-V 6080, AP-V 7080
20
AP-VII 4021, AP-VII 5021
21
AP-V 4020
7. This Guarantee Program applies in areas within a radius of 30 KM from branch offices (Metro), among others: Jakarta, Tangerang, Bekasi, Karawang, Bandung, Semarang, Yogyakarta, Surabaya, Denpasar, Medan, Batam, Pekanbaru, Palembang, Pontianak, Balikpapan, Banjarmasin, Makassar, and Manado. A more detailed explanation can be asked to our Customer Contact Center.
8. This Warranty Program is valid on Monday - Friday working days from 08:30 - 15:00 (not valid on National Holidays and Mass Leave Period stipulated by the government). If a call is received after 15:00, then the period of "3 Hours Downtime" will end at 10:00 on the next business day.
9. This Warranty Program does not apply to conditions of Force Majeure and/or conditions or activities in Astragraphia and/or the place of the customer causing delays in the completion of remedial work.
10. This Warranty Program is valid from January 1, 2023, to December 31, 2023. This program may be extended by Astragraphia and will be announced on this website.
11. If Astragraphia fails to complete the work under this Warranty, the customer will receive a 10% discount on the MoP (Mark on Paper or print amount) of the Color MFD machine and a 12% discount on the MoP from the Black-white (Mono) in question and in the corresponding month.
12. Discounts do not apply accumulatively and only apply a maximum of one failure in the one-month billing period per machine.
13. Customers with CURRENT CURRENCY categories within the last 2 months will get Priority in this program.
14. Discounts will be given directly to the monthly bill.
15. These Terms and Conditions are subject to change without notice.