Astragraphia Together with Mimaki Indonesia and Multiviscomindo Present New Opportunities for Creative Industry Business Actors
Astragraphia Document Solution, September 1, 2021 – The Creative Economy is becoming an increasingly promising sector. This can be seen from the trend of the economy starting to shift to an economy based on ideas, creativity, and innovation. Creative printing opportunities during the pandemic such as signboards, posters, wallpapers, labels to printing on cloth or garments are increasingly in demand. In the midst of the rampant growth of creative printing, digital printing industry players are very important in increasing the selling value (value) of products by using quality printing technology and printing materials.
Astragraphia as a trusted partner in document solutions organizes webinars for customers throughout Indonesia with the theme "Increase Your Business Creativity with Mimaki". The webinar held from 1-3 September 2021 is a continuation of the "Creating More Value with Mimaki" series which was held last year. Present to open the event, Mr. Yulius Dion as Product Marketing Specialist from PT Astra Graphia Tbk presented a brief profile description of Astragraphia as the Exclusive Distributor of FUJIFILM Business Innovation. Through the presence of 32 branches and 93 service points, Astragraphia is always committed to providing the best service and after-sales service for customers throughout Indonesia.
At the moment of this event, Astragraphia as the exclusive distributor of FUJIFILM Business Innovation provided awareness and introduced to customers that it has marketed the two superior products of the Mimaki series, namely the TS100-1600 and UJV100-160 types. This Japanese brand is trusted and has the advantages of high quality, high speed, and dynamic stability. Mimaki focuses its products on market share: sign graphics, industrial products, and fabrics/textiles. Astragraphia presented two speakers, who were Sales & Marketing Executives from PT Mimaki Indonesia, namely:
1. Mr. William Karyawira
2. Mr. Ahmad Faizal
Mr. Wiliam Karyawira – Sales & Executive Marketing from PT Mimaki Indonesia explained that the Mimaki TS100-1600 is a type of printer with a combination of water-based sublimation ink that dries quickly and Raster Link 7 technology on this Mimaki inkjet machine, which can produce beautiful, high-quality bright color printing on hard-materials (glass mugs, photo frames) and polyester or textile fabrics.
Mr. Ahmad Faizal – Sales & Marketing Executive from PT Mimaki Indonesia explained about another Mimaki Series flagship product, the Mimaki UJV100-160. This machine is a type of UV Roll-to-Roll printer. This inkjet printer is equipped with the latest ink innovation "UV LED Ink Lus-210 and VOC-Free technology, environmentally friendly ink but still able to provide the best print quality.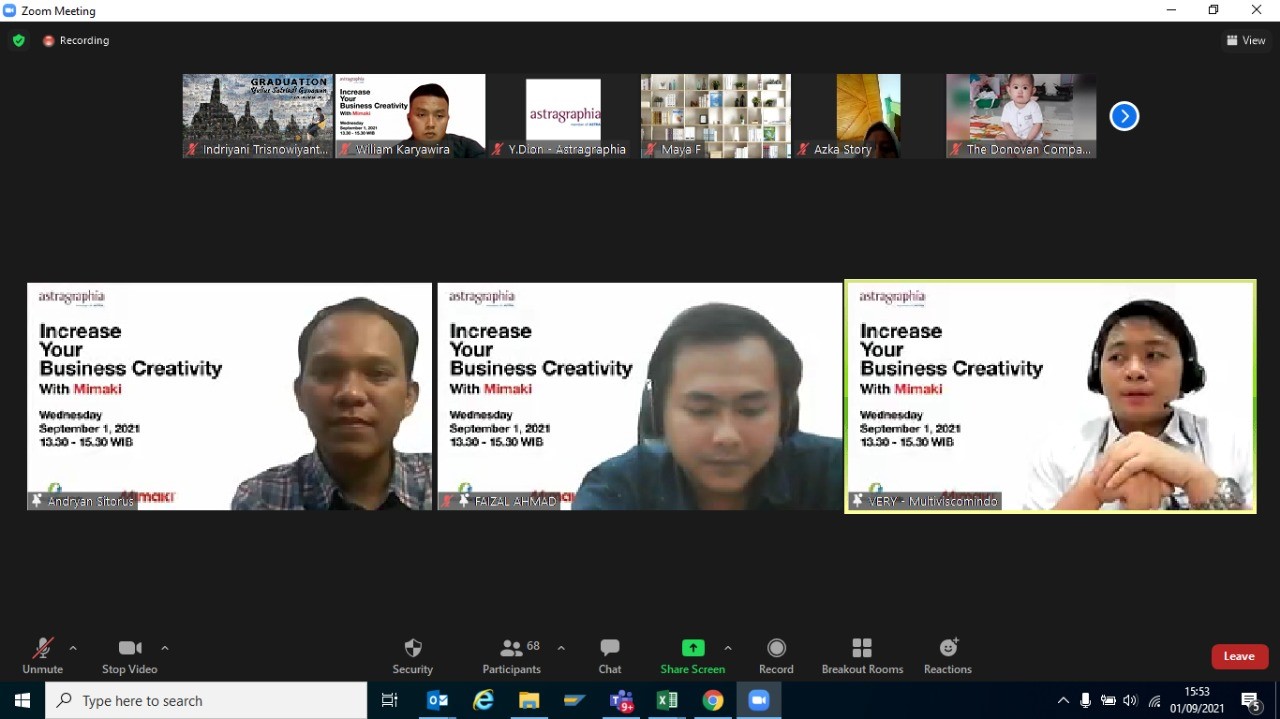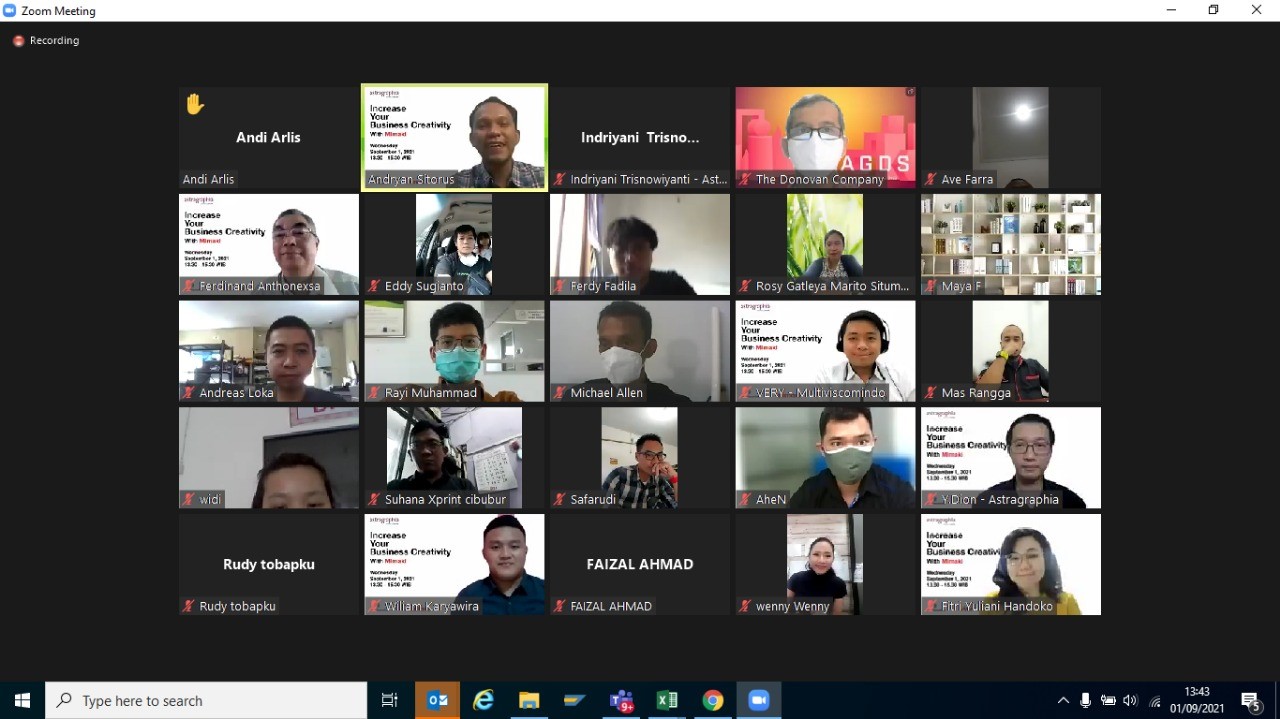 Astragraphia is very aware that to produce quality creative application printouts, of course, it requires the best printing materials as well. Astragraphia invited PT Multi Viscomindo, which is one of the leading distributors of printing materials in Indonesia in the visual communication and digital printing industry. Multi Viscomindo introduced participants to five categories of quality printing materials that are often used today in the creative printing world: Pressure Sensitive Adhesive, Flex Banner, Indoor Inkjet Media, Lamination Film, and Digital Offset Media. Mr. Tan Very Irawan as Marketing Manager who is one of the speakers from PT Multi Viscomindo
Astragraphia as a trusted partner of choice for customers really hopes that this webinar can explore the sophistication and outstanding printing results of the Mimaki series TS100-1600 and UJV100-160 plus after-sales service from Astragraphia, of course, can increase creativity and growth opportunities for your printing business throughout Indonesia.