Astragraphia Launches FUJIFILM Business Innovation Products, Encouraging Digitization of Business Processes and Workflows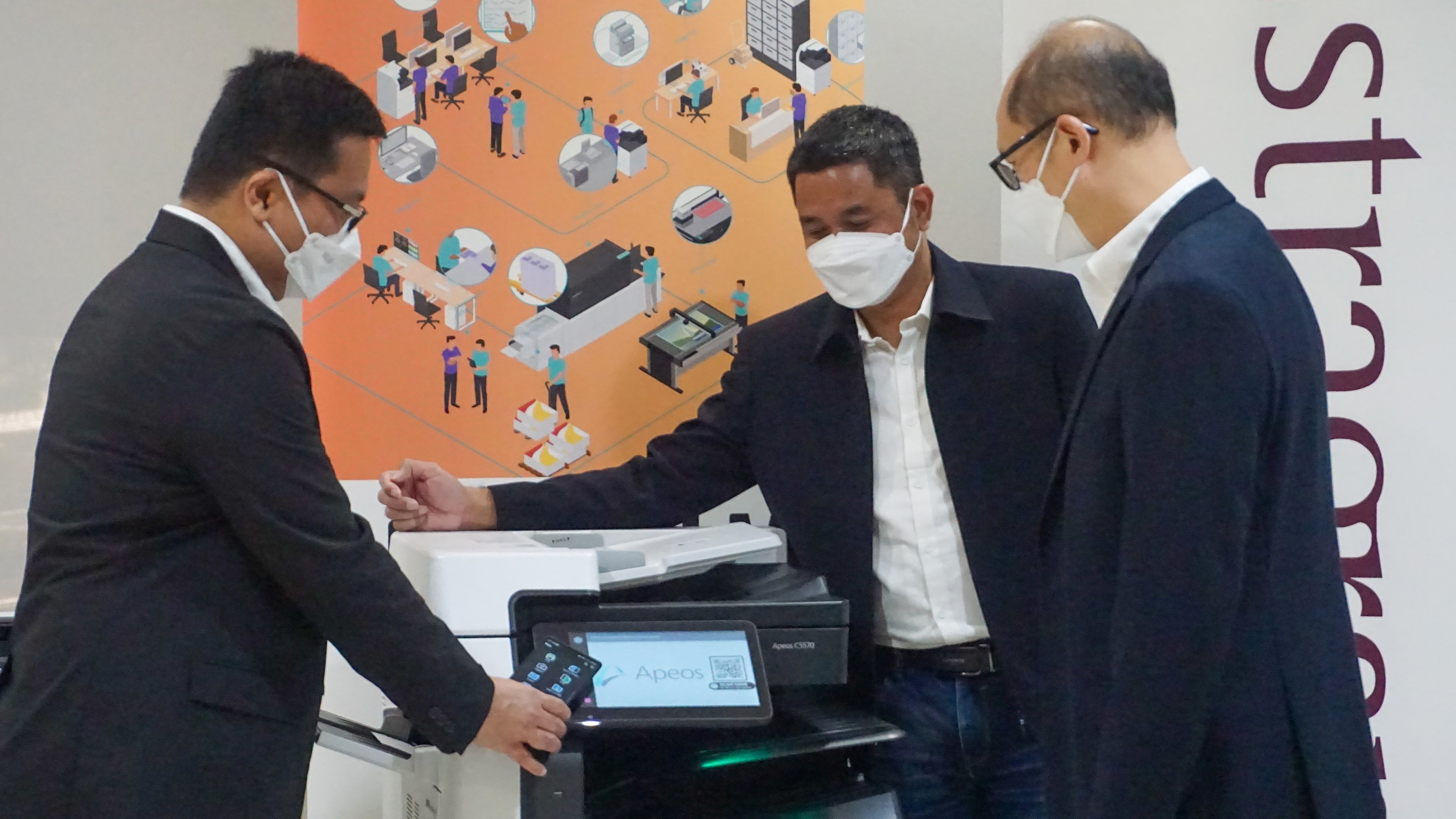 Jakarta, 29 November 2021 – Astragraphia Document Solution Today, PT Astra Graphia Tbk (ASTRAGRAPHIA) introduced a series of products and solutions for The New Apeos Series multifunction devices and printers created by Revoria Press Series from FUJIFILM Business Innovation through its Document Solutions business unit (Astragraphia Document Solution). The launch of these products illustrates ASTRAGRAPHIA and FUJIFILM Business Innovation's rising partnership to provide technology and solutions to encourage the digitization of business processes and workflows for office customers, small to large scale businesses, and business players in the creative industry.
King Iriawan Sutanto – Director of PT Astra Graphia Tbk said, "ASTRAGRAPHIA strengthens its exclusive partnership with FUJIFILM Business Innovation by launching The New Apeos Series and Revoria Press Series. For more than 45 years of partnership, ASTRAGRAPHIA remains trusted to be the exclusive distributor of FUJIFILM Business Innovation. Having long been known as a provider of the best products and solutions for printing, now ASTRAGRAPHIA is also the preferred and leading partner for customers in the new world of digital workplace and graphic communication industry. Through collaboration with FUJIFILM Business Innovation, we are driving the digitization of business processes and workflows to accelerate customer business success."
ASTRAGRAPHIA has the reliability, toughness, and professionalism to provide the best experience for all customers, both in terms of people, products, and technology. In order to realize sustainable business growth, ASTRAGRAPHIA, through the Document Solutions business unit, is committed to continuously innovating to deliver business solutions following the dynamic needs of customers according to the times.
Rudy Sunarto – Chief of Planning & Marketing of PT Astra Graphia Tbk said, "In the office segment, we present the Apeos C325, Apeos C7070 Series, and Apeos 2150NDA to get speed and convenience in managing documents anywhere with wireless features. All of these products are able to support business people from small, medium to large scale to enter new digital work environments, such as remote working, secure and smart work. Through its extensive marketing network and operational area, ASTRAGRAPHIA is ready to market and provide the best after-sales service for smart office products and solutions from all FUJIFILM Business Innovation products to customers throughout Indonesia."
ASTRAGRAPHIA presents a wide and diverse landscape of FUJIFILM Business Innovation products and solutions to meet the dynamic needs of customers from office to production scale. Through the sophistication of features and technology offered, ASTRAGRAPHIA wants to provide flexibility and simplification of business processes into a digital document management solution as well as the development of creative applications that support accelerated customer business growth.
Marshel V. Matulessy – Chief of Graphic Communication Services PT Astra Graphia Tbk said, "Customers of production scale will experience the speed and convenience of managing digital documents anywhere with the features and technology available in ApeosWide, ApeosPro, and Revoria Press E1 series. In addition to providing quality prints, the features and technology available in these three types of products will increase production-scale printing productivity through a variety of print applications for the graphic communications industry and corporations.
The entire range of The New Apeos Series and Revoria Press Series products is ready to be marketed throughout Indonesia. To consult, find out technical specifications, and place orders regarding products and solutions, please visit the documentsolution.com website, social media Instagram @astragraphiadocsol, or email info@astragraphia.co.id.