Strengthening The Existence as Investment Solution for Printing Businesses in Eastern Indonesia, Astragraphia Holds "Ngopi Sore"
In the midst of the growing potential of the printing business as well as reintroducing the range of small to medium-sized Fuji Xerox printers in Indonesia for printshop printers in eastern Indonesia, especially in the Southeast Sulawesi area, Astragraphia Document Solution Makassar Branch held "Ngopi Sore".
The concept of a casual talk show by enjoying coffee in the afternoon and inviting Graphic Art players in Kendari as well as discussing giving the latest trend updates about the latest products that have been launched during 2019. Bp. Suhardi - Branch Manager of Astragraphia Makassar warmly welcomed the invited guests present at Swiss-Belhotel Kendari. In this event, the Astragraphia team introduced the Fuji Xerox ApeosPort / DocuCentre Series VII and the Fuji Xerox PrimeLink C9065. These two products from Fuji Xerox support the business potential and investment in printing in eastern Indonesia, especially the SME industry as well as Graphic Arts players in Kendari, Unaaha, Konawe, and surrounding areas.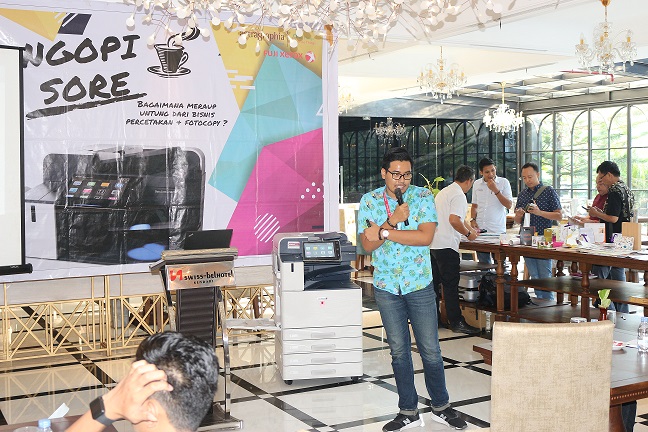 In supporting and improving the production performance and quality of the mold, Bp. Rafik explained the highlighted products of this exhibition are the Color Multifunction Machines, Fuji Xerox ApeosPort / DocuCentre VII C7773 series which offer 7 (seven) digital technologies with maximum (Power of Seven) namely: Intuitive Design, Mobile, Workflow, Security, Support, Cloud, and Remote.
Besides that, Bp. David Donovan as Graphic Communication Services Product Marketing of PT Astra Graphia Tbk, who attended the "Ngopi Sore" event explained the latest production line machine, the Fuji Xerox PrimeLink C9065, titled "Simply Professional, Amazingly Flexible". Fuji Xerox PrimeLink ™ C9065 is a production printer that offers features such as GX-i Print Server, Rich IQ Adjustment, Advanced Calibration, and Automated Adjustment which also accommodates standard requirements such as scan, copy, and print.
Photo Caption: Bp. Rafik Sultoni as Astragraphia Business Consultant gave an explanation of the benefits of ApeosPort / DocuCentre Series VII products in the "Ngopi Sore" event.
In addition, Fuji Xerox PrimeLink ™ C9065 also offers software installations that support Special Imaging Fonts (SIF) such as Micro-Tech which produces 0.6 point writing fonts; UV, where the image will appear on the printout when using UV light; Correlation, where the presence of names and images will be identified by infra-red or when rubbed using special paper. In addition, the PrimeLink C9065 certainly offers to print flexibility for MSMEs with sharp, consistent and accurate image quality with a resolution of 2,400 x 2,400 dots per inch (dpi) that allows customers to print using 350 gsm thick paper to printing MSME promotional material such as banners.