PrimeLink C9065 Launching Gathering "Simply Professional, Expand Your Business" in Pontianak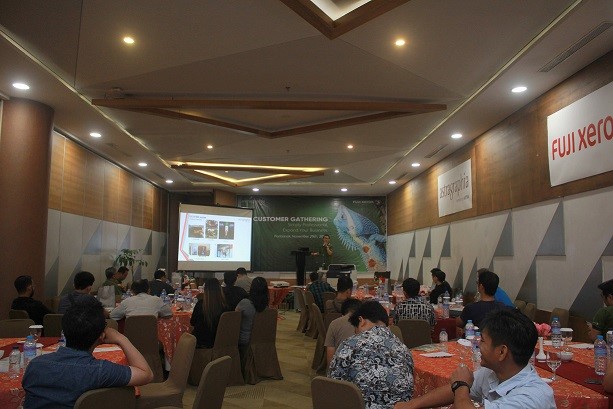 Towards the end of the year, Astragraphia held an event with the best printing customers in West Kalimantan and its surroundings, while introducing the PrimeLink C9065 machine, the Production Printer from Fuji Xerox for low-end class with the excellent capability and good print quality in its class.
The customer gathering was opened by registration at 9 am and was followed by an opening speech from Astragraphia. The event then continued with the introduction of the Prime Link C9065 engine, launching session, lunch, and closed with a demo and door prize distribution at 14.30 noon.
In fact, almost 70% of Pontianak's population is now dominated by young people who are digitally literate. Therefore, unlimited potential and creativity come from young people. From the 2016 Bekraf GRDP data, it is known that West Kalimantan contributes to the National Gross Regional Domestic Product (GRDP) of 5.06%. West Kalimantan is also the 5th leading province that contributes domestic products to Indonesia.
For this reason, Astragraphia and Fuji Xerox ensure to continue to bring innovations that can drive development in the creative industry as a whole, from graphic business owners to end-users.
With the tagline "Simply Professional, Expand Your Business", the PrimeLink series will provide satisfaction for graphic art business people. The Prime Link C9065 has a print speed of 65 ppm for copy and print, a scanner with a scan speed of up to 270 dpi, as well as media variants that vary up to 350gsm and with a wide paper width of up to 330x660mm. This machine is also equipped with GX Print Server from Fuji Xerox which will provide optimum printing results and automatic layout.
As a leader in the digital printing industry, Astragraphia Document Solution strives to always provide end-to-end solutions for customers. Not just printing but also starting from pre-press to post-press (finishing). The hope, Astragraphia Document Solution can continue to be a part of the business journey of all loyal customers.