Indonesia's Creative Economy Continues to Grow, Greater Graphic Designers Opportunities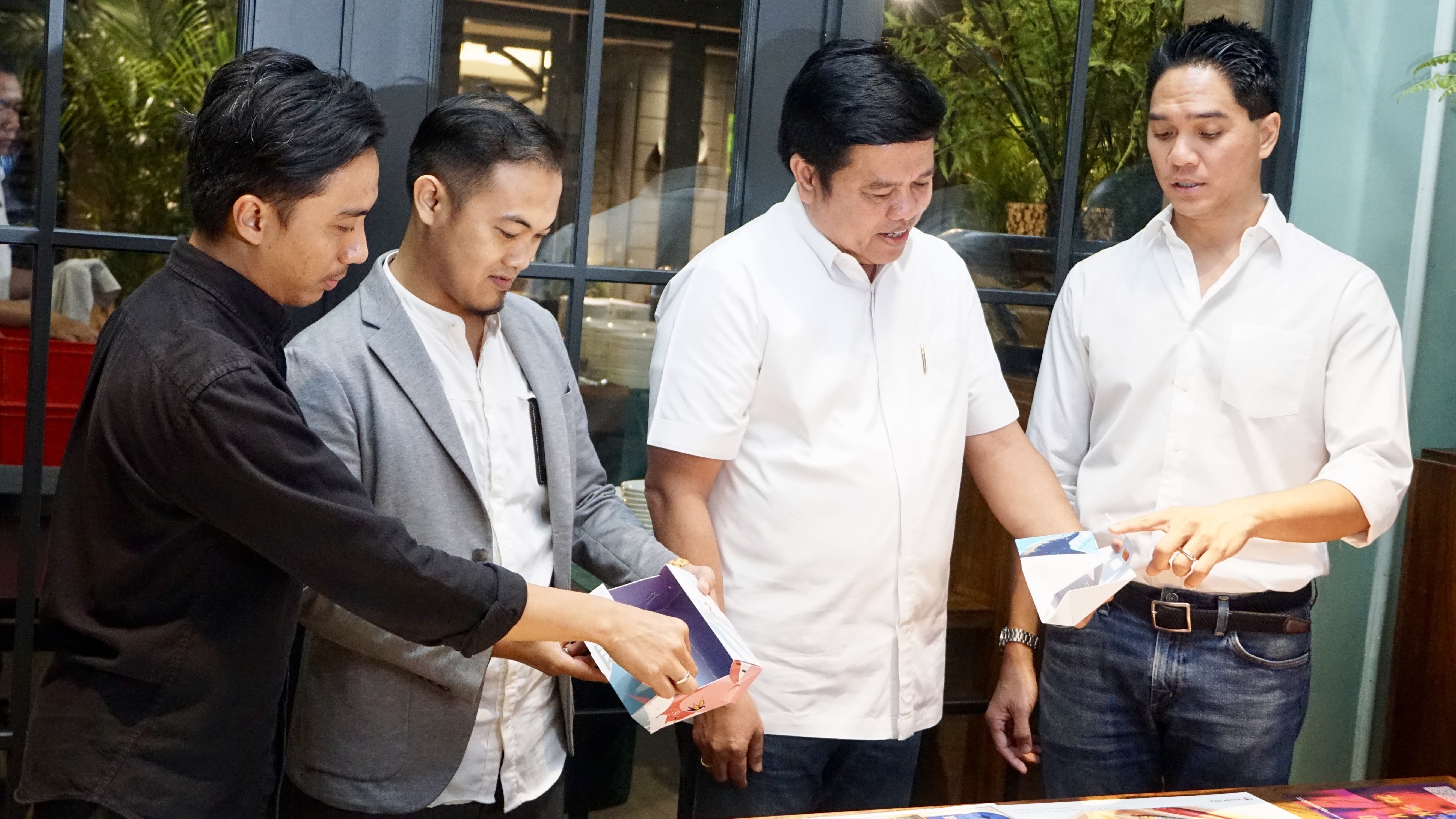 Jakarta, May 15, 2019 - At present, the Creative Economy (Ekraf) is a catalyst for Indonesia's economic growth. The latest data from the Creative Economy Agency (Bekraf) and the Central Statistics Agency (BPS) regarding the Gross Domestic Product of the Gross Sector in 2017 state that the Creative Economy contributed 7.44 percent to the total national economy with a nominal value of 989 trillion rupiahs. Economic GDP continues to grow by 5.06 percent in 2017 compared to 2016.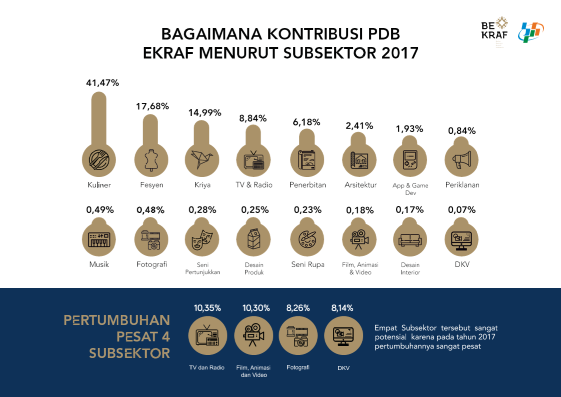 Head of the Creative Economy Agency (Bekraf), Triawan Munaf said that every year, Indonesia's creative industries always grow positively. The creative economy GDP is projected to have increased to close to 1.102 trillion in 2018. Rapid growth occurred in 4 sub-sectors, one of which was Visual Communication Design (DKV) which grew by 8.14 percent.
Islamuddin Rusmin Reka, Executive Director of Marketing, Creative Economy Agency said "The creative economy industry in the future will be one of the driving forces for the Indonesian economy amid the global economic slowdown. With a large market potential, as well as the emergence of the millennial generation, the visual communication design sub-sector has the potential to drive economic growth which is also considered capable of having a large impact on other Ekraf subsectors, for example in the Culinary, Fashion, Craft and so on. "
[1] http://www.bekraf.go.id/berita/page/8/semakin-diminati-pdb-ekonomi-kreatif-capai-rp1000-triliun
In the future, the existence of visual/graphic communication design and product design will be important in the development of the creative industry. This is due to the need for business actors related to branding, display material, catalog design, and others. The Indonesian Graphic Designer Association (ADGI) also provided training to MSMEs in Indonesia several times, both in collaboration with the Creative Economy Agency (Bekraf) and with other institutions.
Rege Indrastudianto, Co-Founder & Design Director of Visious Studio who is also Chair of the Indonesian Graphic Designer Association (ADGI) said, "Graphic design and product design are important elements, because, the first impression when looking at a product is from how it looks, both from the shape product, color, and packaging. The impression of this product must be understood by the producers. The appearance of attractive visual identity, both from the story, graphics, and print quality, will be able to give a good impression of the existing product. Our advice, for industry players, can pay more attention to visual identity. "
According to BEKRAF data compiled during the period 2011 to 2016, GDP contribution The sub-sector growth rate of Visual Communication Design was recorded as the fourth highest in the creative economy. This shows that the Visual Communication Design sub-sector has tremendous potential, but is still constrained by limited ecosystems and facilities.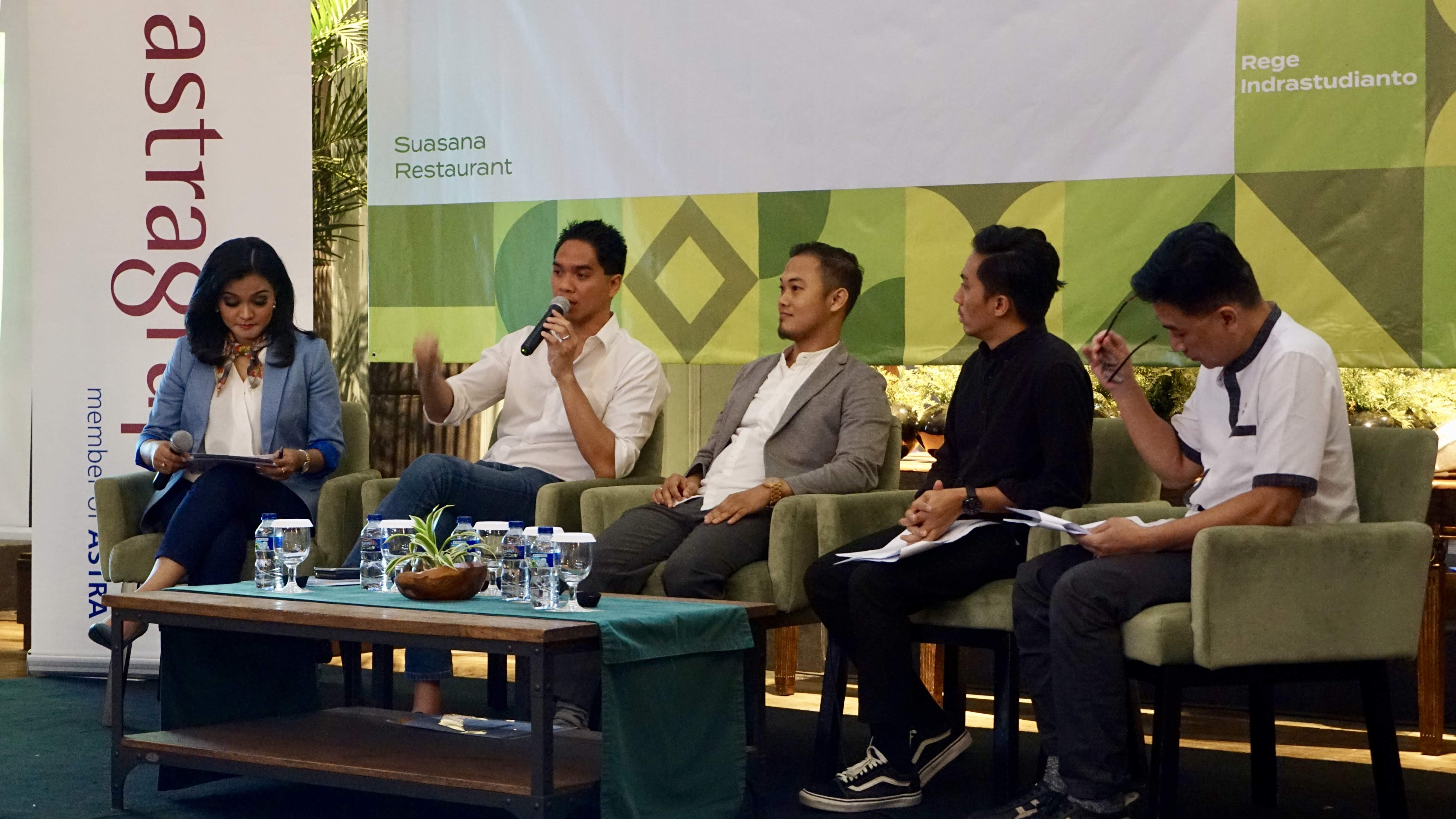 Emir Hakim, Founder, Director - E + Partners Brand Design Consultancy and the ADGI Board of Directors also said, "The development of the creative industry in Indonesia, is a good opportunity (opportunity) for us who work as graphic designers. So far, the design mecca has always been from abroad, and now is the time for Indonesian graphic designers to show their works so that they are not inferior to foreign designers. I am personally optimistic that with the government's support regarding Ekraf and the importance of synergy between practitioners, corporations/businesses and the government, we graphic designers and Ekraf producers can collaborate in advancing Indonesia's Creative Industry far better. "
Graphic designers need to be supported by education so that printed designs can be created according to the expectations of designers and business people. Starting from the search for design ideas, draft designs, to the escalation to the printing and finishing design production. PT Astra Graphia Tbk, which has been known as Fuji Xerox's exclusive distributor in Indonesia, is committed to supporting the creative industry.
Mangara Pangaribuan, Director of PT Astra Graphia Tbk said, "Astragraphia supports the Indonesian economy in an end-to-end manner, starting from the People, Technology, and Process. In terms of People, Astragraphia is ready to provide the best service for customers with a team that is competent in the field of digital printing, through a series of educational activities, workshops, and training. In terms of Technology, Astragraphia is supported by Fuji Xerox digital printing machine solutions and Fujifilm digital offset machines that we market. We strengthen again from the Process side, Astragraphia has a printing showroom where the public can see the printing process to finishing. We hope that the three things above can be utilized by printing business owners and end-users to be able to improve their understanding of easy printing processes and precise printing results and increase the selling price of their work."
Eko Wahyudi, Chief Graphic Communications Services said, "Astragraphia has the initiative to be able to provide knowledge sharing as a printing industry player. This sharing of knowledge is given to Graphic Vocational School students, Design Students, and design professionals who are members of a graphic designer association. Sharing knowledge in the form of training in classes, workshops, and hands-on directly to Fuji Xerox machines. This initiative continues every year so that these designers will be able to provide the best contribution to be ready to work and support the growth of Indonesia's creative industry. "