Astragraphia Webinar: The Smart Way to Optimize Flow of Your Office Documents
Astragraphia Document Solution, 8 September 2020 - In a company, documents are an important aspect. Documents have various data related to the company and can be used as assets. The importance of this requires that there is a flow and procedure so that a document can be stored and recorded properly.
The large impact during the COVID-19 pandemic in many sectors, especially the industrial sector, made many companies implement adjustments. One of them is the Work From Home protocol. The existence of this protocol creates a lack of human resources in an office environment which can hamper some workflows, especially document flow in offices. This lack of resources increases the risk that these documents may not be stored properly if carried out with manual, conventional workflows. Then, how can a company optimize its workflow?
Astragraphia Document Solution as one of the trusted Preferred Partners selected by customers is holding back the 7th Astragraphia Webinar this September. Astragraphia strengthens its existence by trying to change the mindset of customers that now we are not only present to offer multi-functional photocopy products but can integrate with the company's DMS portal so as to provide added value, namely "One Stop Solution" in developing office workflows to be more efficient.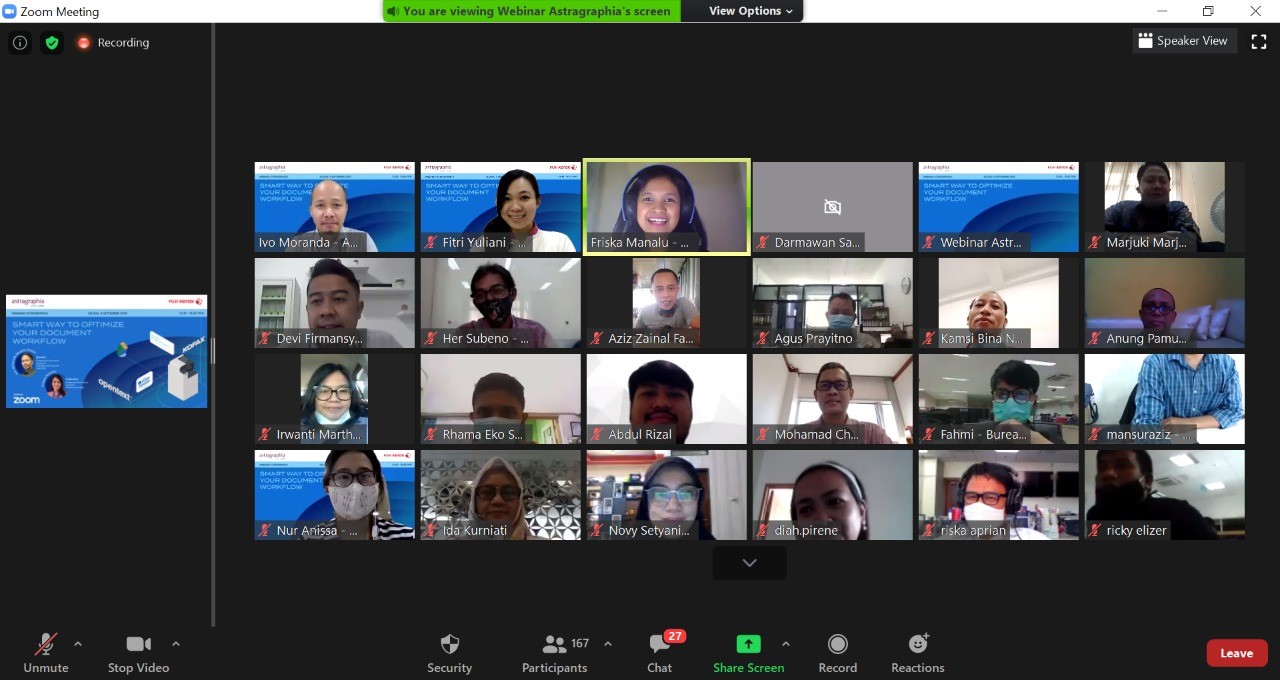 The webinar entitled "Smart Way to Optimize Your Document Workflow" was held online and was attended by more than 200 participants who work as General Affairs, IT, and Finance who work on Account Payable every day. Guided by Friska Manalu as Enterprise Document Solutions and Marketing Analyst from PT Astra Graphia Tbk as a moderator. The main material for this webinar was delivered by resource persons, namely Ivo Moranda Bezato Daely as Enterprise Document Solutions and Software and Solution Specialist from PT Astra Graphia Tbk.
During the duration of approximately 1.5 hours, Ivo Moranda explained the concept of Account Payable Automation through the Document Management System (DMS) portal which is able to optimize the flow of documents in the company. The DMS portal itself makes documents, both hard-copy, and soft-copy, simplified and automated in the Smart Work Gateway portal. With the integration with the multifunctional photocopier from Fuji Xerox, each document can be instantly entered into the application used by the customer. Every Fuji Xerox multifunction photocopier offered by Astragraphia is integrated with this portal, so that it can provide many advantages, including a faster and simpler process than conventional methods, document security from the risk of loss, saving storage size, and increasing work productivity in the office.
In this webinar, the Astragraphia team provided an example of a case study from one of Astragraphia's customers who has implemented this solution. This company engaged in the consumer goods sector has felt the benefits and efficiency of using solutions. With this testimony, webinar participants or customers don't need to worry about the solutions offered and after-sales services from Astragraphia Document Solution.
Astragraphia is grateful for the participation of participants and customers in this webinar. We hope that this event can inspire you to improve the efficiency of document flow in office environments.