Astragraphia Introduce Iridesse Production Press to Grogol Jaya Customer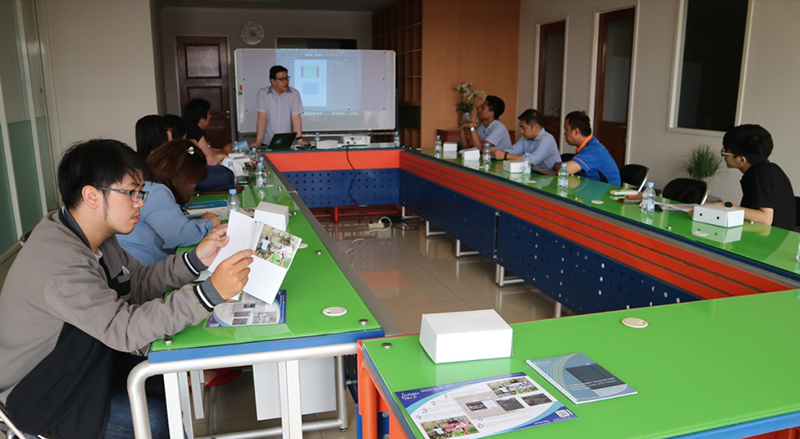 Jakarta - This August and September, Astragraphia Document Solution together with Grogol Jaya held a workshop to its customers in order to increase knowledge of the use of special color features of Fuji Xerox Iridesse Production Press. Grogol Jaya is one of the largest printshops in the Grogol area that provides complete services, ranging from print, copy, scan, to finishing such as cutting, engraving and signs / displays.
As a customer of Astragraphia Document Solution, Grogol Jaya chose the Fuji Xerox Iridesse Production Press to increase satisfaction and complete its service to their customers. Fuji Xerox Iridesse Production Press is indeed known as the first digital printing machine in the industry that supports six color printing. This professional-grade printing machine comes aimed at digital printing entrepreneurs such as Grogol Jaya.
Not only supports CMYK standard color formats (Cyan, Magenta, Yellow and Black), Fuji Xerox Iridesse Production Press can also print with special colors (White, Clear, Gold and Silver). This machine is a superior product from Fuji Xerox which has high print quality and is capable of printing paper with a maximum of 400 gsm at a size of 33 x 120 cm.
The workshop which was held on August 6 and September 4 was represented by Teguh Sardjono from Astragraphia Document Solution, the official distributor of Fuji Xerox in Indonesia. At this event, Astragraphia showed how to produce the best prints using the special color features owned by Fuji Xerox Iridesse Production Press.
Not only conveying various theories that can be applied to satisfy customers with Fuji Xerox Iridesse Production Press, Astragraphia Document Solution also invites Grogol Jaya customers to directly try printing documents with these machines.
Participants who attended the workshop showed their interest in the knowledge shared by Astragraphia. In addition, they feel helped by the workshops given, hopefully in the future they will be able to take advantage of the special color features of Fuji Xerox Iridesse Production Press on the documents to be printed.
Information about Grogol Jaya, can be seen on the following website http://www.grogoljaya.com.