Astragraphia Holds Ngobrol Asik with Visual Communication Design Students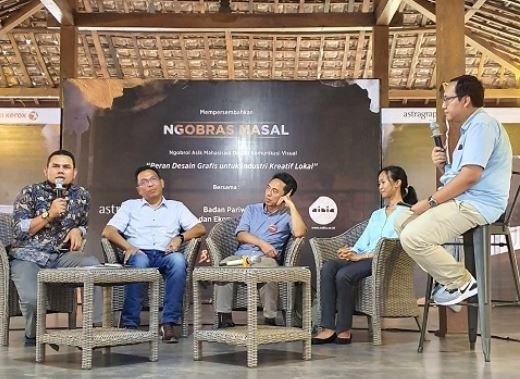 In connection with the holding of an event with the Ministry of Tourism and Creative Economy and the Indonesian Visual Communication Design Professional Association (AIDIA) in Yogyakarta, Astragraphia also held a talk show with the theme "Ngobras Masal: Chatting with Students of Visual Communication Design," which was attended by, among others, Bp. Fahmy Akmal as Kasubdip Bispen Tourism and Creative Economy Agency, Bp. Irawan A. Prasetyo as the Senior Manager of GCS Business Group, Fuji Xerox Asia Pacific Operation, Bp. Eka Sofyan Rizal as Secretary-General of the Central AIDIA, Alit Ayu Dewantari as one of the Beyond Imagination workshop participants and Satryo Dewandono as the Chief of Business Planning & Marketing of PT Astra Graphia Tbk.
On this occasion, Bp. Fahmy Akmal revealed that Yogyakarta as one of the 5 provinces in Indonesia with the highest Ekraf growth contributed to the creative economy's GDP which was quite large, reaching 16.12 percent of Indonesia's total creative economy GDP. There are more than 172 thousand creative economy actors in Yogyakarta with the three largest subsectors engaged in culinary business (106 thousand), craft (36 thousand), and fashion (23 thousand). While the other four sectors grew rapidly: TV and Radio 10.35%, film / animation / video 10.30%, photography 8.26%, and DKV: 8.14%.
Fahmy also said that subsectors such as culinary, fashion, crafts and others require good product design so that the product can be accepted by the market. From this point, they see the need for synergy so that DKV can develop rapidly and contribute in providing added value to the creative industry products in Indonesia.
It is undeniable that graphic design and product design are important elements in beautifying the appearance of products, both from the shape, color to packaging. An attractive visual identity display of the story, graphics, and print quality, will be able to give a good impression of a product.
To meet the needs of product visualization, graphic designers must also update their knowledge of printing techniques and printing machines that can produce certain product packaging. This is to anticipate the end result that is often not in accordance with the design illustrated on a PC or laptop. Especially with the rapid development of print technology that is increasingly modern and rich in color.
Responding to a question about how Astragraphia saw the creative industries in Yogyakarta and its surroundings, Satryo Dewandono as the Chief of Business Planning & Marketing of PT Astra Graphia Tbk stated that Astragraphia strongly supports the creative industry in Yogyakarta to compete by developing aspects of people, technology, and processes.
From the aspect of People, Astragraphia provides education in the form of seminars, workshops, and exhibitions. Then from the Technology aspect, Astragraphia Document Solution partnered with a local printshop to present the Fuji Xerox Iridesse Production Press as the world's first digital printing machine that offers special colors (gold, silver, white, and clear) in the Yogyakarta and Central Java regions to support every industry player creative. Lastly, from the Process side, Astragraphia has a printing showroom where the public can see the process of printing to finishing.
Since 2017 Astragraphia has also provided knowledge sharing/training for Graphic SMK students, Design Students, and design professionals who are members of the Graphic Designer Association.